VietnamSurprise – The coastal province of Quang Ninh is known for specialties like "Chả Mực" Ha Long (fried squid paste), "Tu Hài" (snail) in Van Don and "Sá Sung" (sea worm) in Quan Lan and "Rượu mơ" (apricot wine) in Yen Tu. A visit to the locality helped me find "Bánh Gật Gù" (Gat Gu cake) in Tien Yen District.
The name of the cake in Vietnamese means satisfaction. According to locals, the cake which is shaped into a long roll and made from rice powder (similar to the materials used to make "Phở") is served with fish sauce and is a popular treat for young and old. It was created by residents selling pho (Vietnamese noodles) in the locality.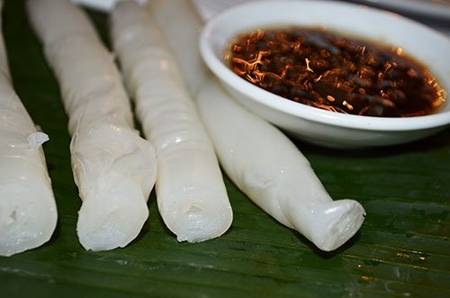 To create it you have to soak the rice with water overnight and grind it into liquid. Then mix the liquid with cooked rice to have the sticky and soft cake. Next you pour the liquid onto a mold and cover with a lid. After that you use a bamboo stick to roll the cake into long shapes. A secret to the perfection of this dish is a mixture made from fish sauce steamed with chicken fat, onion and chili have a cheesy, delicious smell.
Nowadays, people in Tien Yen still enjoy the cake at major events like weddings or guests' visits and they usually add mince meat or steamed meat into the sauce.
Those who have a chance to visit Quang Ninh should pass by Tien Yen to savor the unique "Gật Gù" cake.
Source: SGT