Talking abou Hanoi cafe we can not say no to "sidewalk cafe". Sidewalk cafe has become a character of Hanoi. Just a few plastic chairs, small sidewalk with full of people,… that has become very familiar in many streets in Hanoi.
This article I introduce you 3 street in Ha Noi which now are more famous with sidewalk cafe.
# 1. Nha Tho street
Nha Tho street is the most famous destination for students and young people who come here for enjoy sidewalk cafe. The sidewalk here are small so the tables, chairs also small and made by plastic. But the small shops here are always crowded, especially on weekends or in the afternoon and evening. 
>> Read more: Nha Tho street – The ancient street in Ha Noi
# 2. Nguyen Du street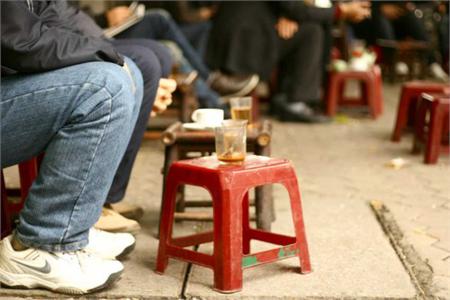 There are about 10 cafe shops on Nguyen Du street, where are facing Thien Quang Lake. A plus point of these coffee shops is that they face the lake and located near the Lenin park so they are now under the shadow of big trees. The price for a cup of coffee starts from VND 15,000. In the evening, these cafe shops are very crowded.
>> Read more: Nguyen Du – One of the most beautiful streets of Ha Noi
# 3. Trieu Viet Vuong street
There are more than a hundred of cafe shop in this street (with about 700m long). Although the street is small, but there are lot of big trees, so cafe shops here are pretty cool. Located near the city center, many office buildings and the Vincom commercial center, so Trieu Viet Vuong street is the destination of office employees. The rush hour is from 6.30AM to 9AM, after lunch time or late afternoon.