Products from "Ô mai", "Dracontomelum fruit ", "Kẹo Cu đơ", "Mè xửng", "kẹo Gương – mirror candy", "Mứt dâu – strawberry jam"… is the specialty candies and jams that you should try once in your life to feel all the traditional flavors of Vietnam.
"Ô mai" Hang Duong, Hanoi
Talking about "Ô mai", it make reminiscent of Hang Duong Street the specialist bakery business, specialty of Hanoi. "Ô mai" more like young Dracontomelum fruit, apricot ginger, apricot sauteed, star fruit, sauteed prunes, apricots licorice, sweet-salt lemon… Each type has a different suit preferences, tastes each person or each time.
Hanoi Dracontomelum fruit jam
Dracontomelum fruit is a fruit found only in the North. The Dracontomelum fruit season in June to September every year. It is not a nice fruit and sour, but there are a hundreds of delicious dishes such as: pickled, fried, soup, braised … can be processed with this fruit. In all this food, jam Dracontomelum fruit most idyllic but many visitors to Hanoi "hunt" this dish.
There are many types of Dracontomelum fruit jam such as: jam of young Dracontomelum fruit, pickled Dracontomelum fruit jam with apricot… each jam brings different experiences, but always make people salivate when thought about.
Sesame peanut candy of Hanoi
Ingredients and method to make this dishes are quite simple. Peanuts and sesame roasted. Boil sugar for melt, then add the malt. Cook sugar and malt to moderate, add sesame and peanuts then stir. Make a thin layer of powder coat on a tray, put the mixture has mixed on, use a wooden sticks for rolling. Then add layers of sesame onto the face. When the mixture is cool, sesame peanut candy dish is available for you to enjoy with hot tea.
"Sìu Châu" candy of Nam Dinh
Regarding the materials, for making "Sìu Châu" candy and sesame peanut candy of Hanoi are the same so many visior when visit two places are often confused. But if you look closely, we easily recognize the different thicknesses of the two specialties. Besides, the thick of "Sìu Châu" candy dish full of "Sìu Chầu" candy makes no sense "crispy crackling" as sesame peanut candy.
"Cu đơ" candy of Ha Tinh
For a good measuring instruments, all operations must be done carefully and meticulously. Specifically, when the candy gall simmers, add ginger and peanuts (with shell) then stir continuously clockwise by hand that the peanuts does not sink and bark extract. When the mixture satisfactory, put a suitable quantity on the small sprinkled cake that are cooked, then add little to teach malt for flavor, then add a layer of cake upside down onto.
"Mè xửng" Hue
"Mè xửng" is the region's specialty of royal area. There are 4 types of "Mè xửng" with 4 different characteristics. Soft "Mè xửng" can curl or bend your arm candy bar, but let go it returns to original shape. Brittle "Mè xửng" it was crispy mouth. Mirror "Mè xửng" is transparent as glass mirrors. Black "Mè xửng" contains black sesame, that make the candy buttery taste…
"Gương" candy Quang Ngai
This candy attaches tourists and people here with a sweet, slightly acidic layer of thin lines, roasted flavor of sesame, peanuts are crispy, crunchy crackling weird mouth because of "mirror class" down in the mouth.
Dalat strawberry jam
There are two types of strawberry jam: water strawberry jam and dried strawberry jam. Each strawberry jam enjoy with different way. Strawberry jam (water) is not only delicious when dipped tatin or bread dish but also is great when cooling water solubility with water and ice. Strawberries drying more strange feeling sour in sweetness behind. However, despite enjoying how most impressive feature of this type of jam made from Da Lat specialties intense sweetness is hard to think of it.
Dry Kaki fruit Da Lat
Visitors to the "kingdom of jam" often called persimmons after impregnation, drying the jam, but locals often call this specialty is dry rose, tied with a food ways.
The food is delicious dry rose made from pink egg, but due to the high purchase products, difficulty in reduction, low performance, most current dry pink roses grafted (left over).
Coconut Candy
As specialty candies South Vietnam in particular and the general, but the whole operation process to produce coconut candy dish is fairly simple with a closed circle of the process from raw materials to finished products.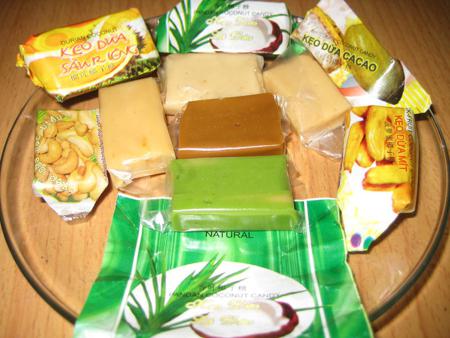 Nowaday, beside of the taste of traditional coconut candy, coconut candy oven studied more new flavors like durian, coconut candy, coconut candy, peanuts, coconut candy color … Even more leisurely reducers or different materials , coconut candy still recruit people with taste, fatty, sweet charming.