Most travelers do not consider Vietnam as a world-renowned destination but it still has lots of things to do and see that will impress any discerning traveler. Vietnam is actually a hidden gem and only those visiting the country know how beautiful and charming the country is. The breathtaking landscape and the hospitality of the friendly local people will occupy a special place in your heart. There are lots of things to do in this amazing country and here is a list of the top 8 things to do in Vietnam.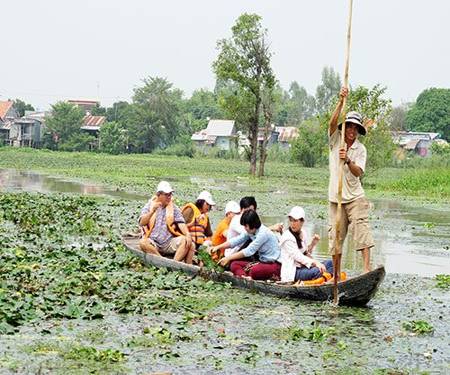 1) Ride a boat down the Mekong Delta: 
One must book this tour through a trusted tour agency. Everything will be included in the tour including lunch and even food-tasting sessions. This is a whole day tour which can be booked online. This is a unique experience and this boat journey down the Mekong Delta will is a memorable experience for every traveler. It will give you a real glimpse of the village life that has evolved around the river.
2) Ha Long Bay:
Located in Northern Vietnam, the Ha Long Bay is one of the natural wonders of the world. The bay is dotted with as many as 1600 limestone islands and it covers a total area of 1500 sq. Km. In 1994 the UNESCO declared it as a World Heritage Site and the place is so beautiful that it looks like straight out of a movie.
3) Fairy Stream, Mui Ne:
Mui Ne is very famous for its beautiful beaches and world-class hotels but one can take a stroll up Fairy Stream to enjoy the beautiful surroundings. It is a free attraction and one can click on the photos of the limestone rocks. There is a small waterfall at the end where one can play in the cascading water.
4) War Museum, Saigon:
A visit to this infamous museum is a must-do for every traveler to Vietnam. The photos are really shocking, which displays the horrifying events of the Vietnam War. However, the photos are very Anti-American and the government has exaggerated some of the facts of the war. But one must visit this museum to get a different perspective of the war.
5) Hoi An Ancient Town:
Hoi An is a charming seaside town and is one of the most important trading ports in Asia. Although trading has moved elsewhere, this town is still worth a visit for its Chinese temples, a Japanese designed bridge, pagodas, French colonial houses and the old canals.
6) Drink coffee by the roadside:
One of the most gratifying experiences of a tour to Vietnam would be to sit on one of those plastic stools and sip a cup of hot but sweet coffee. There is countless number of coffee shops in the country which are lined up along the streets. The coffee is brewed using stainless steel coffee filters and once can enjoy his/her coffee with condensed milk and ice.
7) Appreciate the beautiful French architecture:
Till the late 19th century Vietnam was colonized by the French as a result of which one can easily see fine examples of French architecture strewn across the country. The Central Post designed by Gustav Eiffel is the pride and joy of the country. The Notre Dame Cathedral is also noteworthy and attracts a lot of tourists for its fine design.
8) Cu Chi Tunnels:
The Cu Chi Tunnels offers the visitors a sneak peek into the underground chambers of the erstwhile Viet Cong Guerrillas. There are more than 120 km of tunnels and construction was started in 1948 when the Viet Cong were fighting the French. This is a huge collection of tunnels and the tourists can actually crawl through them just like the Viet Cong did during the war.
There are a lot of international travelers who express an avid interest in driving in Vietnam but the major obstacle is that the country does not recognize International Driving Permit. So one needs a Vietnamese license to drive a car in this country. Foreigners who have a driver's license in their home country need to simply register for a license in Vietnam. For example, if you are a British National then you must possess a driver's license in your home country. 
Author Bio:
Melody Cleo is a passionate blogger from Manchester, UK. In her free time, she writes articles on various topics such as technology, gadgets, travel…etc. As of now she is focusing on Driving licence UK, which provides provisional driving licence services for UK people.