Born and bred in Thailand, the oldest man in the Red River's floating hamlet lives on a simple and deteriorating boat in the dry season.
For the last decade, Mr. Vu Dinh Bai, 77, and his wife has been living in a small boat, which is enough for a sedge mat, a wardrobe and a kitchen. The life of Bai's family and 16 other families in this floating village has been affected by the drought.
Bai said his family owned a small house in Hanoi over ten years ago. "It is our fate to live on this boat," he commented.
He sold the house for 45 million dong (around $3000-4000) to pay hospital fees and buy this boat. His two sons have become drug addicts.
Bai and his wife live on this boat. The woman collects plastic bags and paper for her husband to clean to sell. This is the only source of income for this family.
Bai was born in Thailand. "My mother is over 100 years old and she still lives in a pagoda in Thailand. I dream of having some money to visit her," he remarked.
The old couple earns over 1 million dong from collecting plastic bags and waste paper a month.
When his wife goes out to collect waste, he stays at home with some dogs.
Their life is affected by the Red River's water exhaustion. "When the water is high, I can catch some fish," he explained.
A corner in the boat, which is used as a kitchen.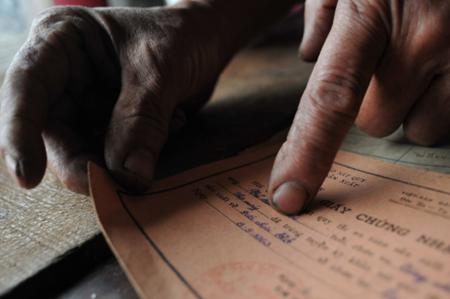 Bai showed his certificate of automobile repair skills.
Bai's wife has to buy a jar of clean water each day. The couple has to pay several thousand dong for clean water every month.
Source: Vietnam-mylife.blogspot