The Cat Ba Tourism 2013 opened on March 31 with an art performance in Cat Hai island district of northern Hai Phong port city. Read How to travel to Cat Ba island by motorcycle and How to travel to Cat Ba island by boat.
The event marked the 54th anniversary of Uncle Ho's visit to a fishing village there and was part of major activities to welcome the National Tourism Year of the Red River Delta – Hai Phong 2013.
At the opening ceremony, Vice Chairman of the Hai Phong city People's Committee Le Khac Nam said Cat Ba island has become an attractive destination for many visitors and is one of the world's biosphere reserves. It is also a place to protect a rare species named white-headed langur.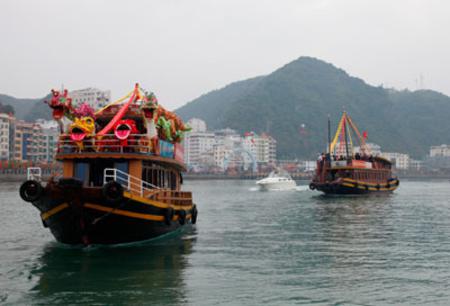 Last year, the number of tourists to this national beautiful landscape reached more than 1.3 million.
Haiphong city is striving to turn Cat Ba island into the nation's tourism and culture centre and an important port region in the northern region.
It expects to welcome one million visitors to Cat Ba this year.
>> Read more about Cat Ba island in Hai Phong city
VOV online